By Thomas Rye on February 11, 2011
Posted in Fitness | 1 Response
By Thomas Rye on November 18, 2010
1. Pour your office-grade coffee

Be it Folgers, Maxwell House or another entry-level coffee this is your base. The main thing is that it has at least some mild flavor of actual coffee. You'll see here that I've gotten the best part of the office coffee – the bottom of the pot, where you'll find any grounds that slipped through the filter.

2. Add a packet of hot chocolate

I'm using Swiss Miss here. I got a box of 10 of them for $1. You can opt for a premium hot chocolate mix and it may improve your office mocha respectively.

3. Microwave for 45 seconds (optional)

If, like me, you've gotten the last of the pot of coffee, you may notice that the coffee your grounds are floating in is a bit below preferred temperature. It's important that the coffee be pretty warm or hot because it helps the hot chocolate to melt and mix in.

4. Stir hot chocolate in coffee until smooth and frothy

This is where this simple and cost-effective concoction really starts too look tasty. If you are good with a toothpick you might even be able to make one of those cool coffee art designs on top.

5. Enjoy 'The Office Mocha'

I hope you're surprised at how tasty this budget beverage is. I find that it really comes in handy if I've run out of good creamer at the office or when I need to cut back on $5 coffee shop coffees.
If you have your own version of this or know of some ways to make it even better – please share in the comments below!
Posted in Recipes | Tagged coffee, mocha, office, recipe | 2 Responses
By Thomas Rye on November 4, 2010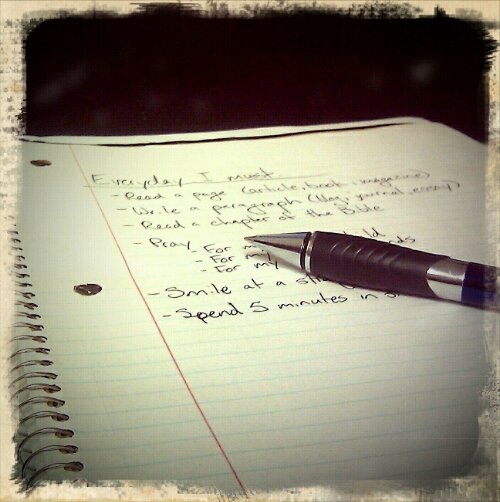 You might think of an "Everyday I Must" list like a daily bucket list. Those little things that you don't want to forget about in the busy-ness of life. The things you don't ever want to take for granted.
I'll give you my short list so you can see what it may look like…
Everyday I Must…
– Read a page (article, book, magazine)
– Write a paragraph (blog, journal, essay)
– Read a chapter of the bible
– Pray
For my wife & child
For my friends & family
For my enemies
– Smile at a stranger
– Spend 5 minutes in silent thought
You may have an entirely different list, but I encourage you to make one and keep it someplace noticeable – next to your computer monitor, on your car dashboard, on the frig, etc. I suggest not including work related things like checking emails as those are the sorts of things that usually "busy" us away from our more meaningful activities.
You may consider a "Every Week I Must" list if that makes more sense to you. Just keep it simple.
– Call your parents/grandparents
– Invite friends to dinner
– Color with your kids using only crayons
There's no rules about this. It's just meant to help us make each day fulfilling and meaningful.
What are you going to put on your "Everyday I Must" list?
Posted in Blogging | Tagged good habits, life improvement, lists, prayer, writing | 1 Response
By Thomas Rye on October 21, 2010
There are billions of things posted, uploaded, updated, reddit'd, submitted, stumbled, and tweeted all across the interwebs. Today, I want to look at those things that have a bit more substance to them – the "written" things on the internet, if you will.
Some write to journal publicly. Maybe just to get things off their chest or express themselves through writing.
Others write to entertain. I haven't come across a lot of sites dedicated to fictional writings, but I'm sure there are some. When I say "write to entertain", I'm thinking of the writing on the internet that is in short anecdotal stories that you can read in a few minutes or less (i.e. FML, Dear Blank Please Blank, Texts From Last Night)  Sometimes this too can be to get things off their chest, but in a humorous style and about things that people can relate to. One of my favorite forms of this is in the form of comics (i.e. The Oatmeal).
You'll find a very large community, nay, internet metropolis based around technology. Technology is a broad topic, yes, but it is a part of so many parts of our lives and this is what makes the articles about technology related topics so voluminous. Technology breaks into many different pieces that could also be categorized otherwise – some of the most popular are likely How-To articles and News articles.
You may not think much about the importance of writing. You may think that the last the the world and the internet needs is another article about something that doesn't matter or that no one cares about. Or you may think that there's nothing actually worth-while on the internet when it comes to written works. If so, I challenge you to do a search on things that you've always wanted to know how to do and tell me if you don't find a decent answer.
If you know about something or are particularly good at something and ESPECIALLY if you are an expert (or something close to it), please, for the rest of us – write about it! Explain it. Give us enough insight to try it. And then when we've tried it and realize how beautiful or difficult or fulfilling it actually is – we'll love you all the more for it.
If you are not an expert at anything and don't really do much, well… Keep consuming. Keeping reading. Keep thumbs-upping and thumbs-downing, 1-starring and 5-starring, Liking and Retweeting. And most of all – Keep trying. You'll get there. And when you do… write about it!
Posted in Blogging, Writing | Tagged internet, writing | Leave a response
By Thomas Rye on August 30, 2010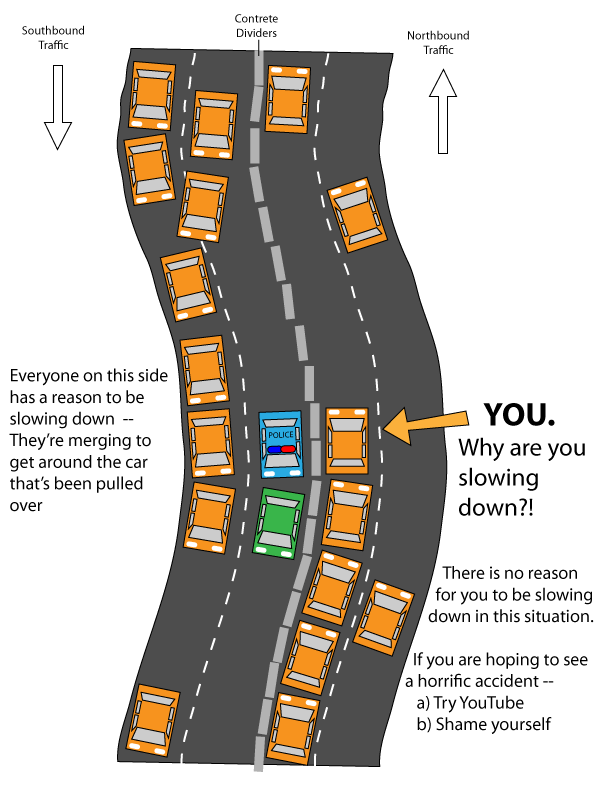 Posted in Comic | 2 Responses
By Thomas Rye on August 17, 2010

I've been a big fan of online purchasing for a long time. Year after year, the process just keeps getting better and, perhaps more importantly, easier. Some things make a lot of sense to buy online – computer products, software, non-tailored clothing – you can almost always find much better deals and a much wider variety if you do your shopping online. Other things such as travel, food, and other try-before-you-buy type items require a much more complex process to successfully offer online, but with all the technology improvements over the last few years even these complex items can be obtained over the internet.
I can't remember the last time I didn't purchase my plane tickets online — you might not either. Many moons ago, Travelocity had a pretty good corner on the online travel market. If anyone remembers their DreamMaps, you'll know what I'm talking about. Select your departure city and then just browse the globe speckled with prices and find some amazing deal to some exotic destination. I don't know why they ever took it down.
Skipping ahead, Orbitz and Kayak have really never let me down. Priceline has given me some great deals on a few hotel rooms, but I've never successfully gotten a good airfare deal through them. Bing Travel (Farecast) and Cheap Tickets get an honorable mention, but the online travel giants of years past have failed to keep up. Travelocity never has the best price anymore  so I rarely even check their site. Last (and possibly least), the one with my favorite jingle of all – Expedia "dot cooooooooom" – has become my foe…
My wife and I are leaving for our honeymoon to Central America…
I booked a room for one night at the Maya Colonial Hotel less than 24 hours in advance – no option to purchase trip protection insurance, so, obviously, I didn't (but I would've if I could have)…
We miss our first flight which means that we will miss our connecting once-a-day flight to Honduras and, you guessed it, miss our hotel reservation. So I call Expedia looking forward to a pleasant experience that makes booking with online travel giants the way to go…
On hold for 45 minutes… carrying my phone around the airport on speakerphone waiting for someone to pickup… no answer… it's time to board the plane so I have to hang up.
I call Expedia again after we land… on hold for 30 minutes… a guy picks up so I explain the situation. He is a nice customer service guy so he listens and explains that he will try to reach the hotel… puts me on hold, tries to call hotel… 15 minutes go by… I get disconnected… have to call back and wait on hold again for 25 minutes… again, carrying my phone around waiting for hold music to end and a person to pickup…
Finally get through. This time, I give the guy my number right away so he can call me back if we get disconnected. Explain the situation again, he puts me on hold… I wait 15 minutes… he can't get a hold of the hotel. (To those of you that want to bash me for being disappointed with Expedia, please know that at this point I was only upset with the hotel.)
So this guy, also a nice customer service guy (like the first one was), explains that he understands the situation and since we can't reach the hotel he will submit a cancellation request to them right away. He then also puts me at ease and assures me that everything should be fine and to contact Expedia if I find that the hotel still charges me and they will take care of it. Great.
My wife and I go and have a great and adventurous honeymoon…
10 days later… returned from the honeymoon, checking my bank statement and notice that I got charged for the hotel room. So, as the nice customer service guy said to do, I call Expedia… wait on hold for a while (no surprise)… talk to a lady and explain the situation… She looks up the itinerary number, reads the notes, calls the hotel. When she gets back on the line, she tells me that they never received any cancellation request, so that's why they charged me. I wasn't even in their country, much less at their hotel, but since the reservation was not cancelled, they charged me. At this point, it's upsetting, but I assume this is when Expedia will apologize and take responsibility to get me credited back for the mistake. Expedia lady doesn't offer an apology that apparently they didn't handle it correctly, she apologizes that I have to pay for a room that I never stayed in – almost like a "Sorry, better luck next time." I try to stay calm and explain that I don't think that is right. She tells me I can speak to the manager of the hotel if I call back the next day at 10 am (which would be Monday and I would be at work) – I tell her that won't be possible and that I need Expedia to take care of this for me… she puts me on hold and gets her supervisor.
The supervisor was nothing more than an "I'm sorry, but we won't help you" man. I made sure that he understood the circumstances. He said because I tried to cancel within 24 hours of the reservation time that I would still be charged. I asked him if he knew when I made the reservation. He looked it up… made the reservation less that 24 hours in advance. So I asked him if there were any exceptions to that rule considering that I never would've had the chance to cancel more than 24 hours in advance AND I canceled within 6 hours of making the reservation in the first place. He didn't seem to have an answer but merely responded with, "Well, you clicked that you agreed to the Terms and Conditions, so there's nothing I can do to help you."
I clarified, "So you are ok with the fact that Expedia helped me lose $100 on a hotel room that I never stayed in?"
His response after a long pause, "Uh… I guess you are entitled to your own opinion."
Later he says, "I'm sorry sir there's nothing we can do for you, you checked the box agreeing to the terms and conditions."
I re-stated, "There's nothing you will do. There is plenty you can do, but you won't. I'd really like for you to help me out, but you do not want to."
Before we got off the phone, I made sure that he (and whoever reviews the call later) knew that, "I will never use Expedia again."
In the end, I'm glad it was only $100. I don't have any reason to believe they would have done any more to help me out if it had been $1000 or even more.
Sidenote: I have had last minute itinerary changes and canceled flights before when using Orbitz. When I called them to get assistance they were always very helpful and understanding. They seem to truly understand the chaos that traveling can be and they've positioned themselves to be a help in those times… not add to the misery. Thanks Orbitz.
Word to all service-offering companies: Don't use your terms and conditions to legally screw your customers out of their money.
Others that have been screwed by Expedia:
http://www.marketingshift.com/2005/12/expedia-dot-scam.cfm – I really hope Team Expedia comments on my blog.
http://worstcustomerservice.wordpress.com/2008/04/17/bad-customer-service-expedia/
Posted in Travel | 34 Responses
By Thomas Rye on July 26, 2010
UPDATE: This list will be for movies from your college days or before, if you're my age  (ie around 5+ years ago).
** I've nixed a few great movies simply because they're just too recent. I'll make another list/poll for those.

Since the conversation started with Garden State (2004) – that will be the cut off. Also, anime has been nixed (because I'm close minded).

In a recent conversation with some friends, we stumbled upon the fact that my girlfriend fiancee wife had never seen Garden State. We were all flabbergasted. As we investigated further, we came to find out that she had missed out on many of the rest of the groups favorite movies from years past. It turned into a quick-fire survey where we were all shouting out movies, most with her shaking her head "no" to. I quickly got out a paper and pen and started writing down the movies we were throwing out with much nostalgia, noting the ones my hypo-cinematically-exposed lady friend had not seen.

(Edit) I quickly lost the list before I was able to transfer it to this blog. So help me out by posting the movies that you feel are staples in your DVD collection or ones that you would be surprised to find out if one of your friends hadn't seen it yet.

(Edit) I've made the list into a poll – feel free to vote for your Top 20 "Should've Already Seen" movies – View Results link at bottom.

[poll id="2″]
Posted in Favorites, Movies | 17 Responses