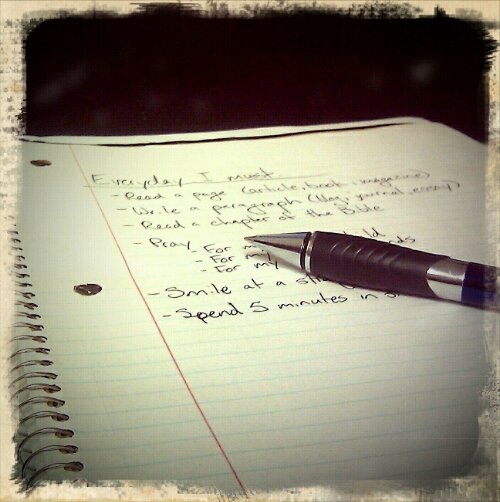 You might think of an "Everyday I Must" list like a daily bucket list. Those little things that you don't want to forget about in the busy-ness of life. The things you don't ever want to take for granted.
I'll give you my short list so you can see what it may look like…
Everyday I Must…
– Read a page (article, book, magazine)
– Write a paragraph (blog, journal, essay)
– Read a chapter of the bible
– Pray
For my wife & child
For my friends & family
For my enemies
– Smile at a stranger
– Spend 5 minutes in silent thought
You may have an entirely different list, but I encourage you to make one and keep it someplace noticeable – next to your computer monitor, on your car dashboard, on the frig, etc. I suggest not including work related things like checking emails as those are the sorts of things that usually "busy" us away from our more meaningful activities.
You may consider a "Every Week I Must" list if that makes more sense to you. Just keep it simple.
– Call your parents/grandparents
– Invite friends to dinner
– Color with your kids using only crayons
There's no rules about this. It's just meant to help us make each day fulfilling and meaningful.
What are you going to put on your "Everyday I Must" list?