Archives by date
You are browsing the site archives by date.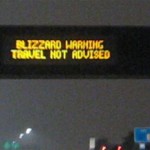 By Thomas Rye on December 30, 2009
"Blizzard Warning – Travel Not Advised". My first thought was, "I'm glad to be traveling right now."
Posted in Blogging, Weather | Tagged blizzard, driving, snow, Weather | 1 Response
By Thomas Rye on December 13, 2009
I'm still working at getting this site to be something useful. I've got a custom design for the blog that I will be putting in place. Hopefully this week. We'll see. Stay tuned though and I promise changes will come.
Posted in Updates | 4 Responses