Archives by date
You are browsing the site archives by date.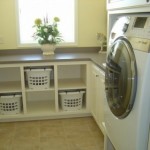 By Thomas Rye on October 11, 2012
No need for the laundry area to be a dark, dank and disorganized place. I'm not sure why the site this originally came from was flagged as spam, but here it is for all your repinning needs!
Posted in Home, Home Improvement | Leave a response