Let me just start by stating a few disclaimers:
1. Legos are certainly allowed to be the Legos of grown ups. Legos really don't stop being awesome as you age. Especially if you have a box huge bucket of them with lots of specialty pieces mixed in.
2. Age aside, Legos and Minecraft are certainly ok for nerds and non-nerds alike. I bought Minecraft when it was still in Pre-Alpha stage (Indev) – nerd. But as of this posting Minecraft has over 3.5 million paying users and over 14 million registered users in its Beta stage and has a massive conference planned for this November when they will release the first "official" version. I'm not really sure if they still call it 'official' when the game has been available to the public for years now as they've been developing it. Suffice it to say, Minecraft is way beyond some niche nerd group or even hipsters that call themselves nerds.
Alright, now that I've perhaps answered a few disagreements with the title of this post, let's move on so I can give you much more to disagree with.
I don't know when the last time was that you actually played with Legos, but they're still awesome. If you're like most Lego-interacting adults, you might have bought a Lego pack and spent a riveting Wednesday evening assembling the 600 piece machine – a wholly worthy endeavor. But when was the last time you held a yellow-headed Lego dude in your hand and fought his arch nemesis or walked through a world you created for him? It's been a while, ya? So we still "play" with Legos, we just make different stuff out of them – usually more complicated and much less imaginative stuff. The problem is that we have lost the perspective of being IN the world we're building. Watch any kid with Legos (or any toy really) and they're usually being the character – often with their eyes right down on the level of the toy itself.
Hey you can't blame them, it is way more fun to experience our creations in the most immersive way possible. Enter Minecraft. In case you have not played it yet, imagine a world made of Legos and you are living in it, allowed to destroy and create whatever you want. That's the simple explanation. Now pretend that there's also water and monsters and gadgets and animals and night and day and weapons and weather and your friends* (if you're playing online) – Now you're getting closer to Minecraft.
The beauty of Minecraft is in it's balance of real world (physics, weather, biomes/climates, nature) and ultimate creative freedom. If you want to, you can dig up a bunch of dirt and built a single column tower to the sky. Or you can take the time to mine enough stone to build a 1:1 scale model of London's Tower Bridge.
As Notch, Jeb and the rest of the Mojang team continues development on Minecraft, we get to see an already great experience fill out with more and more to do. Recent additions include villages filled with NPCs (non-player characters), new monsters, and XP points. Many of these pieces are pointing towards the role-playing aspect of the game getting a great boost before the full release in November.
Maybe you're not into the RPG thing with monsters and NPCs ("what are those?"). If you're not into that, but still like creating things and interacting in a 3D world with your creations – there is Creative Mode on Minecraft. In creative mode, you start with a clean slate of flat grassy plain on which to build at will from your infinite supply of any of the blocks in the game. Make Tower Bridge, make a rollercoaster, make whatever you can dream up! All without the fear of having to survive against the monsters and your own hunger (in the game – you still have to eat in real life while you play.)
Come play – Try it out! I'll be waiting for you.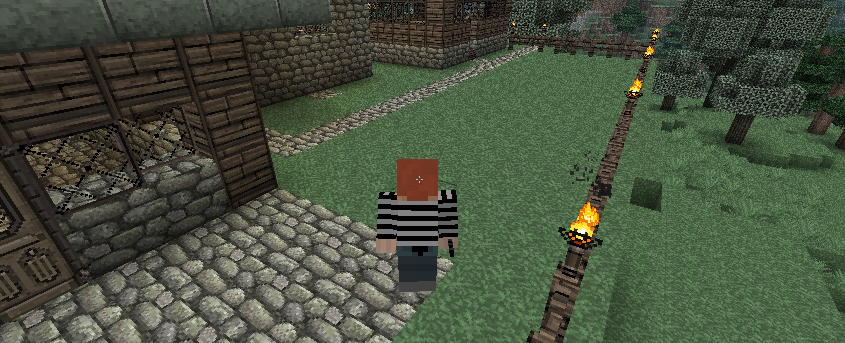 Edit – The default graphics of Minecraft aren't that great, but there are tons of texture packs that you can install to make the graphics much better. If you need help with this, just let me know – I'd be happy to help.