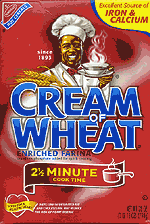 Last night I was so hungry it was making me REALLY grouchy. It was one of those hungers where you are starting to lose it and just get delirious… only with a good helping of straight up MAD. I remembered that I had a box of Cream of Wheat in the pantry, so I got it out and started to boil up 2 servings of it (both for me). I asked my girlfriend if she wanted some and she answered with a laugh – I already knew that she didn't like Cream of Wheat. So I doctor up the finished product with butter and brown sugar and head into the other room where she is.
As I'm going to town on this bowl (after apologizing for being a total grouch 10 minutes earlier) she peeks over and makes a face. It's at that point I decided to defend my beloved childhood meal and started to pry into her about it.
Me: "When was the last time you had Cream of Wheat?"
Her: "Look at it! It looks like… like… little eggs or something, bleh."
Me: "Ok the texture might be unique, but it's like a massage to your mouth and it tastes SO good!"
She starts to argue more (playfully, of course), but decides instead to just take a bite and (presumptively) hate it and put an end to the discussion.
*Takes bite, goes back to reading her book* ………. *Turns back towards me with a slight smirk*
Me: "You want some more don't you?!"
I hand her the spoon and we split what was left of the bowl. She loves it now!
I call upon all of you that are against Cream of Wheat to give it another shot. Try it with butter and brown sugar or add some chocolate syrup or put fruit on top. It's good.
[polldaddy poll=3327268]